Liability Insurance & Benefits For Dentists, Dental Students and Staff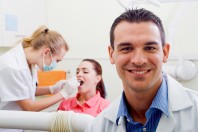 New Dentist Buy Online Today:
Buy Insurance for New Dentists
Professional Liability Insurance Program For Dentists
We are proud to be the exclusive agent for the Professional Protector Plan® for Dentists in Idaho, Utah & Montana. The Professional Protector Plan®  has continuously insured dental professionals across the nation since 1969 with insurance customized to meet the needs of individual practices. We offer a comprehensive insurance program  developed specifically for the dental practice by providing insurance protection through professional liability insurance, general liability insurance, employment practice liability insurance, workers' compensation, and property insurance products.
Only with the Professional Protector Plan®  will you have an insurance program issued through a carrier with the strength and stability of AAIC, which has earned an "A" rating from A.M. Best. Additionally, the PPP offers all of your professional insurance through a single provider, eliminating the inconvenience that you may face by choosing multiple companies for various insurance needs.

For oral and maxillofacial surgeons, we are proud to be the exclusive agent for OMSNIC in Idaho and Utah. OMSNIC only insures oral and maxillofacial surgeons and insures over 80% of eligible oral and maxillofacial surgeons nationwide. OMSNIC is endorsed exclusively by AAOMS and is A (Excellent) rated by A.M. Best Company. For more information please click here: www.omsnic.com